Signup

to enjoy CarbonTV videos ad free!

Ad free experience ends Oct. 31, 2018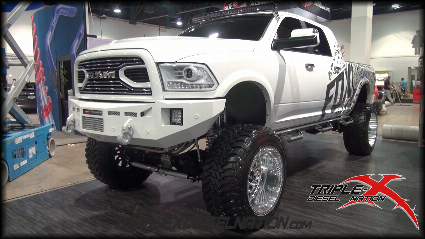 SEMA GMC 3500 Rollin' Coal!!!
Glen has been hard at work on his 2015 GMC 3500 to have it prepared for it's debut at SEMA 2015. A lot went into this build. Build specs include 10-12"" CST front lift, 10-12"" Kelderman Rear Lift. 38x15.5x22 Fuel MudGrippers, 22"" Maverick 2 piece wheels Powdered Prismatic Neon Yellow, Custom Fit Bushwacker Flares (they don't make flares for gm Dually), Readylift upper control arms, Amp Steps, Fusion Bumpers Front and Rear Painted to Match, Rigid Q-series Fog Lights and Two 10"" Rigid Lights in the Center, 4 Diffused Rigid Dually Lights in the Rear. Flo Pro Single into 7"" tip. Fass 150 Lift Pump Plumbed into Titan Tank. EFI Live Tuned, Rare Parts Tie Rod Replacements, 3M Ocean Shimmer Satin Blue Wrap.Enjoy the walkaround of the truck, then a nice little burnout at the end! LET THE COAL ROLL!!Audio is royalty free music titled ""District 12"" from Audio Jungle.


Recommendations