Signup

to enjoy CarbonTV videos ad free!

Ad free experience ends Oct. 31, 2018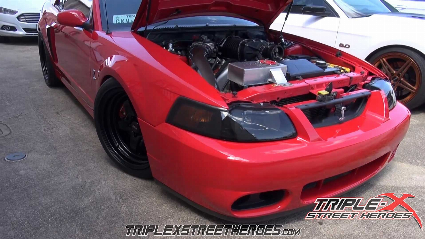 Fastest Street Cars Around!
"A few of the fastest street cars in the area had all recently undergone some type of upgrades in some form or another. Everyone got together for a few clean rolls to see how each car stacked up against the others. It turned out pretty well overall for everyone, especially being on the back side of the miserably hot summer temps of Mexico.Car details:2014 Corvette Stingray - VR SC850+, 416 stroker, Novi 2200 blower, cam, meth injection, Monster LT1-R clutch, RPM stage 7 trans, 1600HP axles, 93 oct. Drag radials2009 Nissan GT-R - Alpha 9 package, Hoosier rears on E982006 Corvette Z06 - Milled heads, LS7r cam, ATI underdrive pulley, electric water pump, MSD Atomic intake, ARH headers, 150 shot nitrous.2010 Corvette Grand Sport - Billy Briggs built ZR1 block, LS9 crank, Callie's ultra rods, Diamond pistons, V3 Vortech blower, 3600 triple disc stall, built Circle D trans, 150 shot nitrous, single race nozzle stand alone fuel system for spray, E98, 15in. Mickey Thompsons.2011 CTS-V - LTE 2.5 upper pulley, CAI, 90mm ported TB, heat exchanger, ice box, muffler delete, drag radials."


Recommendations